Quality custom horse shed frame kits for sale.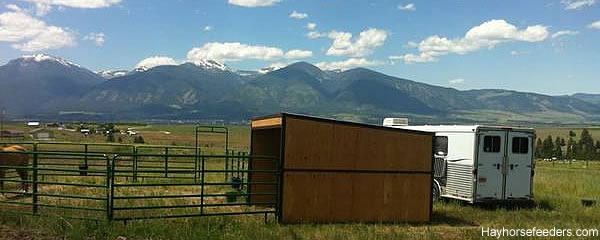 These horse shelter kits offer protection to pastured horses from wind, rain, snow, and the summer sun.
Frame kit is 10' x 10' or 12' x 12' and 8' high in the front sloping to 7' high at the back. Portable Horse Shelters have a 3" x 3" x3/16" angle iron steel frame with 2"x 2" square steel tubing roof rafters. All steel is painted and pre drilled for easy assembly with the supplied 3/8" bolts. Frame kits are also drilled with 1/4" holes for fastening plywood to the walls, elevator bolts are supplied for this. Also supplied are self tapping sheet metal screws to fasten down a metal roof, drilling for the sheet metal screws is required by you to fasten down the metal building roof material. Easy to assemble, a 10' x 10' or 12' x 12' DIY Horse shed can be assembled in a short time, with some simple hand tools. One of the many advantages of a bolt together portable horse shelter kit is the ease of assembly and disassembly to relocate it to a different location.
| | |
| --- | --- |
All 10 x 10 or 12 x12 shed kits for sale, come designed and ready to bolt onto another 10 x 10 or 12 x 12 frame. This allows you to construct a 10 x 20, 12 x 24 or longer horse shed, as well as making it easy to expand to a larger size building at a later date. All four walls are drilled to be bolted to any one of the four walls of another shelter kit. This lets you become creative with your horse run in shed layout. You could make a peak roof design by bolting the two open front walls to each other. We furnish all nuts and bolts, assembly instructions, and a parts list. Phone support is also available if needed during assembly.
| | |
| --- | --- |
Built strong with long lasting 3/16" angle iron frame.

DIY Easy to assemble, and take apart.

You supply the metal or wood wall and roof building material and save money.

Can be anchored to the ground with stakes in each corner, fastened to fence posts, or concrete footings.

Portable and predrilled to fasten to wooden or steel skids if desired.

Run-in sheds provide health benefits beyond weather protection for your animals.

Can also be used to store hay, or as a tack shed.

Affordable option to having your own horse shelter.
---

Horse shelter assembly video for our 10 x 10 frame kits. Part 1
Shelter plywood and roofing assembly video for our 10 x 10 shed kits. Part 2
---
Information on automatic horse feeders
Click to view videos of the automatic hay feeders
Installing a wall mount feeder in a hay shed
Installing a horse feeder in a pasture
Green Diamond
Florence Montana



E-mail
---
© copyright 2020